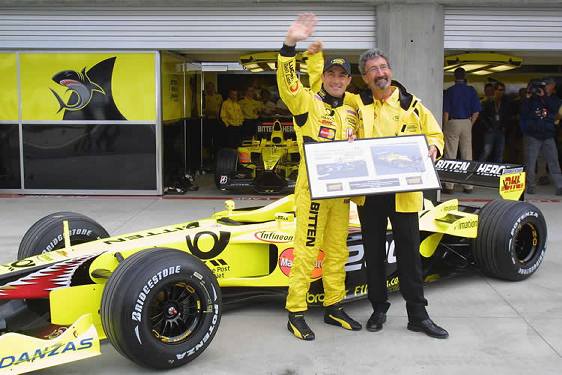 Jean at the end of his F1 career, celebrating his 200th and penultimate Grand Prix.
Jean Alesi raced in Formula One for 13 years, participating in 201 Grand Prix. One of the most experienced drivers in Formula 1 of all time, he walked a mercurial and exciting path through Formula One from the day he finished 4th in his first Gand Prix at Paul Ricard in 1989. Amazingly he did it in a Tyrrell!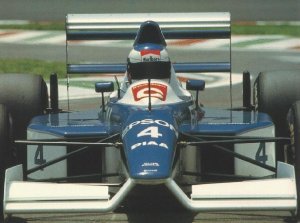 Driving the wheels off the Tyrrell as usual - Mexico '90
Following this and other equally impressive performances, Jean was signed by Ken Tyrrell full-time for 1990. He repaid the faith by finishing second in the U.S Grand prix, and continued to impress both in qualifying and in races. He established himself as hot property for 1991.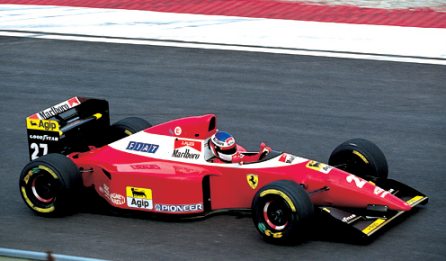 Defying the laws of Physics was often required to get the F93A near the front of the grid!
In 1991 Jean began what was to become a five year stint at the Scuderia Ferrari, the most successful, and most renowned automoblie empire in the world. Being of Scisillian decent, Jean always dreamed of driving Ferrari No. 27, the car of his childhood hero, Gilles Villeneuve. However the prancing horse was beginning to go somewhat lame and the lack of performance from the car lead to 4-times World Champion Alain Prost being fired, due to the comments made by Prost about his car.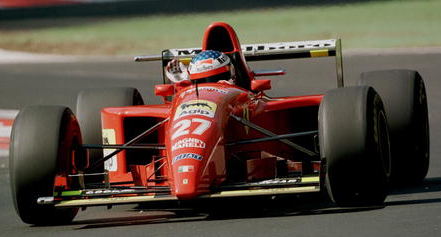 Jean enjoying the passion of Monza '95 and his favourite Ferrari, the 412T2
Jean stuck with Ferrari through the hard times until 1995, becoming good friends with Gerhard Berger along the way . Jean enjoyed driving for Ferrari but the temptation for himself and Berger to go to the World Champion Benetton team for 1996 was too good to miss. It is probable that these years of suffering with uncompetitive Ferrari cars ruined Jean's career. Only in 1995 was the car anywhere near competitive, and even then it was still terribly unreliable. Jean rewarded the team with his first (and only) Grand Prix win in Canada of that year.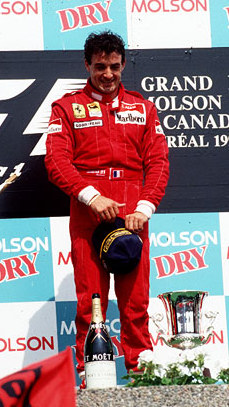 At last!! After 91 Grand Prix Jean finished first. Suprisingly he's not bitter he's only won 1 GP. Driving for Ferrari was enough!
The common consensus was that Benetton had thrown Jean a lifeline, and he had a new opportunity to display his racecraft and challenge for the World championship. Sadly, yet again, Jean was in the right car, but as usual. at the wrong time...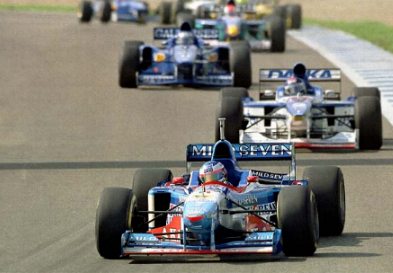 No wins, but consitent pace netted Benetton LOTS of points in '96 & '97. Benetton's resulting form has proved Alesi wasn't at fault for the teams waivering performances.
So what was the problem? OK - Here goes...
The team was built around Schumacher, and Benetton could not understand that other drivers did things differently - not only in terms of car setup, but in terms or working.
Regardless of this Jean loved Schuey's B195, but Benetton managed to build a over sensitive B196 and a B197 that couldn't get heat into its tyres.
In early '97 Team Boffins Ross Brawn and Rory Byrne left to join the wunderkind at Ferrari, leaving Benetton without its Technical Staff.
Benneton blamed its drivers for the poor performances rather than accepting their share of the blame. Arrogant boss Flavio Briatore spread untrue roumers about his drivers. The general depression in the team affected Alesi, who needs to have a team morally 'behind' him.
As you can see, allied to the problems of Ferrari, nobody wanted Alesi for '98, so he had to step down to mid-grid team Sauber. Jean got his head down and turned on the talent...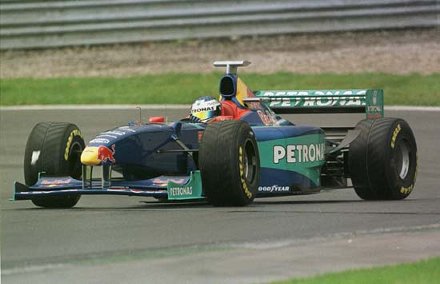 Jean proved he was doing more than just driving for his pension at Sauber.
After a difficult start to 1998, Jean performed consistently for Sauber. His mistakes were few and his speed imense, in fact he was so quick he managed to shift the teams' focus away from Johnny Herbert in '98 , another driver whose career was damaged by Benetton. 9 points were not a true picture of the speed of the Sauber driver who took a front row grid position in Austria, and finished third in the torrential Belgian GP at Spa. These performances were proof that the talent is still there.
1999 was turbulent. The Sauber C18 was a useful car when a setup was found. Jean highlighted this with a front row at Magny Cours (torrential rain) 5th on the grid in Bacelona and 8th in Canada. He was quick at most races, but terrible unreliability led to few finishes, one of which netted Jean's only point of '99. The inconsistent nature of the car was highlighted at Hockenheim where he qualified 21st, complaining of horrendous understeer, the handling charachteristic Jean dislikes most.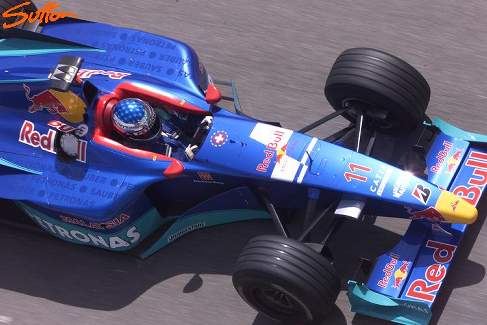 1999 was full of promise for Sauber and Jean, but Reliability was a major poblem and Jean only scored 1 point.
Jean went to Prost at the end of '99. After initial optimism, the 2000 season was an unmittigated disaster. The AP03 was terribly unreliable, mainly to its Peugeot Engines and dodgy gearbox. When the car did run for more than 10 laps it was hopelessly twutch to drive. Jean enjoys an oversteering car, not a car that is constantly trying to either blow up, or plant itself in the nearest barrier! To his immense credit, Jean avoided one of his patented 'explosions' and is getting on with the task in hand. He was not happy - not by a long way, but he knew there is no point getting his hair off when the team are already 100% focused on sorting out the problems. He was promised a better car for 2001, and Jean prepared himself for a fight in 2001.
"An Eruption can't be far away; few will blame him when it comes" - Autosport Magazine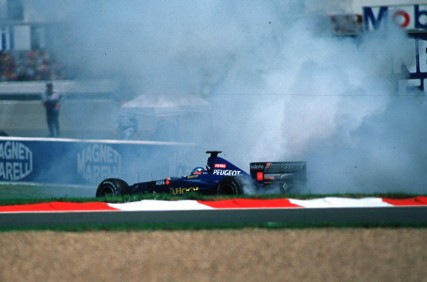 2k+Prost=DISASTER! - Jean kept his cool and his motivation however.
2001 got off to a great start in testing, with Jean breaking track records at most places he visited. Jean had lost weight, and was looking to perform. He might have ben 36, and nearing the end of his F1 career, but why should that spoil his fun!?!?!?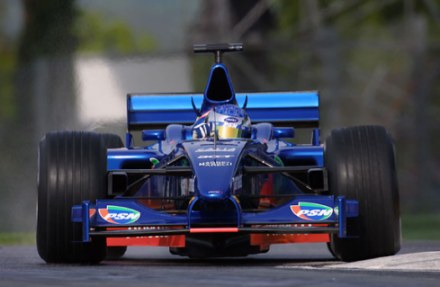 After early promise, Jean eventually scored his first points since Imola '99.
After Scoring some useful points for Prost, Internal team politics took its toll on Jean and his friendship with Alain Prost. Jean decided to leave, and joined Jordan who had recently fired Heinz-Harald Frentzen. Jean was given the opoortunity to race a Jordan in the final 5 Grand Prix of 2001. Jean scored further points on occasion and proved he could still worry a seriosuly quick driver like Jarno Trulli, even at the age of 37!!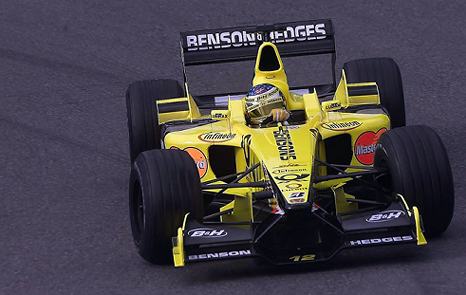 Even in his last Grands Prix, Jean was still on the edge. Traction Control stops MOST drivers from getting sideways like this...
Takuma Sato was confirmed as a driver for Jordan for 2001 alongside Giancarlo Fisichella, leaving Jean without a drive. Jean made the decision to retire from F1 three hours later. I for one (perhaps suprisingly) am 100% behind his decision. Its far better to leave F1 after driving for a top team in your last year, knowing you weren't far off a top driver, than to race at the back of the field and risk injury for what????
Jean Alesi.
201 Grands Prix.
1 Win.
A lifetime of Memroies.
Thanks for the memories Jean, I will miss you and your contribution to F1.
"I always do things to my maximum" - Jean Alesi